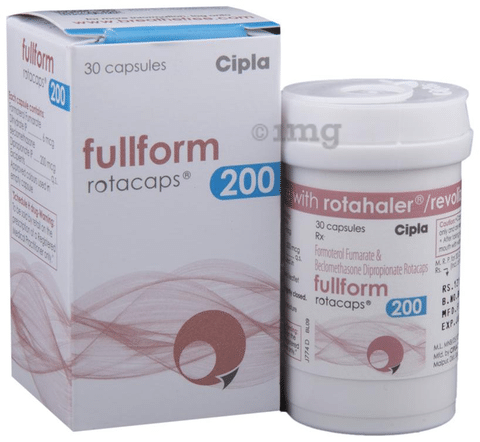 ---
INTRODUCTION
Fullform 200 Rotacap is used in the treatment of asthma (wheezing and shortness of breath) and chronic obstructive pulmonary disorder (a lung disorder in which the flow of air to the lungs is blocked). It relaxes the muscles of the air passages and making it easier to breathe.
Your doctor will tell you how often you need to use your inhaler. It's important that you take the lowest dose needed to effectively control your asthma. The effect of this medicine may be noticeable after a few days but will only reach its maximum after a few weeks. This medicine must be used regularly to be effective, so go on taking it even if you don't have any symptoms. That means it's doing its job. If you stop taking it your asthma and COPD may get worse. It should not be used to relieve sudden asthma attacks. If an asthma attack occurs, use your quick-relief inhaler (reliever). To get the benefit from this medicine you need to make sure you get your inhaler technique right, otherwise, it Does not work as well.
The most common side effects are nausea, vomiting, respiratory tract infection, fungal infections in the mouth, headache, dry mouth, hoarseness of voice, sore throat, cough, musculoskeletal (bone, muscle, or joint) pain, and increased heart rate. If you get there, don't stop taking it but do talk to your doctor. You can help prevent some of these symptoms by rinsing your mouth and throat with water or brushing your teeth after using your inhaler. There are other, rarer side effects which can be serious. Talk to your doctor if you're worried about them. In general, you should be trying to avoid situations that make your asthma worse (your triggers) and try not to smoke.
Ask your doctor whether it's safe to take this medicine if you're pregnant or breastfeeding. Before taking it, you should tell your doctor if you have any kidney or liver diseases so that your doctor can prescribe a suitable dose for you.
---
USES OF FULLFORM ROTACAP
BENEFITS OF FULLFORM ROTACAP
In Chronic obstructive pulmonary disease (COPD)
COPD (chronic obstructive pulmonary disease) is a group of lung diseases that cause breathing difficulties. COPD is caused by swelling of the airways that carry air in and out of the lungs. Fullform 200 Rotacap relaxes the muscles of these airways and widens it. This makes you breathe easy and gives relief from symptoms such as tightness in your chest, shortness of breath, wheezing and coughing. Avoid smoking and minimise your exposure to pollution, dust and fumes. Along with that, a little exercise each day can help you stay strong. Talk to your doctor about how much exercise is good for you.
---
SIDE EFFECTS OF FULLFORM ROTACAP
Most side effects do not require any medical attention and disappear as your body adjusts to the medicine. Consult your doctor if they persist or if you're worried about them
Common side effects of Fullform
Nausea
Vomiting
Respiratory tract infection
Fungal infection of mouth
Sore throat
Headache
Dryness in mouth
Hoarseness of voice
Cough
Musculoskeletal (bone, muscle or joint) pain
Increased heart rate
---
HOW TO USE FULLFORM ROTACAP
Rotacaps must not be swallowed. Check the label for directions before use. Place the capsule at the base of rotahaler, not in the mouthpiece. Twist the mouthpiece completely until your hear a click and breathe in deeply through the mouthpiece. Hold your breath for up to 10 seconds. If some powder remains in the rotahaler repeat the process.
---
HOW FULLFORM ROTACAP WORKS
Fullform 200 Rotacap is a combination of two medicines: Beclometasone and Formoterol. Beclometasone is a steroid. It gets absorbed into the cells of the inner surface of the nose and works by blocking the production of certain chemical messengers that cause inflammation (swelling) and allergies. This relieves blocked or runny nose, sneezing and sinus discomfort. Formoterol is a long-acting bronchodilator which works by relaxing the muscles in the airways and widens the airways. Together, they make breathing easier.
---
SAFETY ADVICE

Alcohol
UNSAFE
It is unsafe to consume alcohol with Fullform 200 Rotacap.

Pregnancy
CONSULT YOUR DOCTOR
Fullform 200 Rotacap may be unsafe to use during pregnancy. Although there are limited studies in humans, animal studies have shown harmful effects on the developing baby. Your doctor will weigh the benefits and any potential risks before prescribing it to you. Please consult your doctor.

Breast feeding
SAFE IF PRESCRIBED
Fullform 200 Rotacap is probably safe to use during breastfeeding. Limited human data suggests that the drug does not represent any significant risk to the baby.

Driving
No interaction found/established

Kidney
No interaction found/established

Liver
No interaction found/established
---
WHAT IF YOU FORGET TO TAKE FULLFORM ROTACAP?
If you miss a dose of Fullform 200 Rotacap, use it as soon as possible. However, if it is almost time for your next dose, skip the missed dose and go back to your regular schedule. Do not double the dose.
---